January 20th, 2009
---
11:28 am - I could listen to him all day
His inauguration address gave me chills.

The man is an amazing orator.

December 8th, 2008
---
11:59 am - Swoon
Why yes I DID wake up to my husband making me french toast this morning.

*sigh*

I am a lucky, lucky lucky girl.

November 10th, 2008
---
08:42 pm - Bliss
Tonight we all played together... Andrew jumped around and pretended to attack Tomas, I tickled them both, Tomas pretended to attack me (I think he was trying to tickle me), and then pretended to attack Andrew, Andrew jumped on me and I grabbed Andrew, and we all laughed and played until Tomas was sitting on the ground breathing hard. Chloe came in and Andrew attacked her, and then she lay on me and licked my face and I hugged her and petted her and Tomas hugged us both.

This is a moment that makes everything else unimportant.

This is a moment I've had before, and this is a moment I hope I have more often.

November 6th, 2008
---
09:13 am - cheeks
I am eating an organic fuji apple that is HUGE and tastes just like apple cider. Yum.

November 5th, 2008
---
07:20 pm - snippet
Me: What does it say that I can define every place I've lived by the used bookstores? **

Andrew: That you are really, really AWESOME.






** That's not true, I define every place I've lived by the restaurants AND used bookstores.

November 3rd, 2008
---
12:30 pm - What do you do?
We recycle. We compost. We repurpose and reuse. We don't have a car, belonging instead to the local car co-op for special trips, and for everyday, choosing to walk or ride transit. We're vegan, which has the incidental effect of being better for the environment. We wash our clothes in cold water, line dry almost everything (even throughout winter, because we hang our stuff inside), and use only natural shampoos/soaps/dish detergent/laundry soap that won't pollute our oceans/land. We each have an on-the-go coffee/tea cup we take with us everywhere, metal water bottles we take on long trips (and to work), and we use biodegradable dog-poop bags and burlap shopping bags. We get some of our own produce from our backyard garden.

Edit: We also cloth diaper! And try to buy local as often as possible, when it makes sense.


What I am working on improving:
-I need to run the water less long, i.e. when washing dishes, brushing my teeth (almost got this one down), showering (can I really bring myself to turn off the shower while shampooing/soaping up, then turn it back on?).
-I need to remember to bring our own tupperware for leftovers EVERY TIME we go out for food, instead of just 25% of the time.
-We need to buy less packaged food.

Edit: We also need to buy local more often, and spend the $ on biodegradable kitchen garbage bags and bags for cat litter.

I'm sure there are other things we should improve as well - but baby steps is the name of the game. Now we'll work on those, later we'll work on others.

October 31st, 2008
---
October 7th, 2008
---
07:11 pm - favourite chords
I love this song - but I love it the most when Andrew plays the guitar and sings it.



September 13th, 2008
---
08:55 pm - September 13, 2008
Today my little man turned 1. We had a little party, and he is so popular, so many people came out to see him! He dressed up in a shirt his grandma gave him, and was as cute as a button all day, and friendly as ever.





Mama had a bit of a rough start to her day, but she sure did love seeing him happy.

September 6th, 2008
---
08:27 am - home - and Kudos, Air Canada!
I'm home!

Before I forget, I have to say that I was very happy with Air Canada. I flew Air Canada there and back, for cheaper than I could find with WestJet, and the seats are spacious (more room than WestJet), and the service lovely. On the way there, when I got to the gate, the gate attendants (what do you call them?) changed my seat to one with nobody beside me, so we had some extra room. On the way back, that wasn't possible, but a flight attendant brought all my bags to my seat so I could just carry Tomas, and both ways attendants were quite attentive.

Not only that, but on the way back I lucked out with seatmates. Tomas and I were in a middle seat (yikes!), but my seatmates were both lovely - they took turns holding him and interacting with him to keep him interested, they let me keep stuff on their trays since he was grabbing everything on mine, they kept picking up stuff that he tossed (or I dropped) on the floor, and when he (finally) fell asleep, one gave me her coat to put under my arm when he got heavy. (Apparently all the flight attendants were talking to each other about what a nice group we all were, until the one that brought my bags said - no, they don't know each other, the lady with the baby came by herself!).

In the airport checking in and getting through security was good too. Apparently being alone with a baby and stroller gives me "priority" which tickles me pink.

Anyway, we're off to the farmer's market. I'll update about the actual trip later...

August 6th, 2008
---
04:34 pm - bursting
Today Tomas and I went to the park. Today, for the VERY first time, he was able to hold on to the top of the slide, and when mama was at the bottom of the slide ready to catch him, he let go and slid down, squealing the whole while! He did that 5 times, at least, sometimes he stayed sitting, sometimes he lay back but he never hit his head. He LOVED IT. And so did I. I near to burst with joy.

August 3rd, 2008
---
08:50 pm - Dammit
I just ruined 2 entire pans full of apple cinnamon granola, because I forgot about it.

I am NOT going to make another batch tonight. I'm just not. Ugh.

July 23rd, 2008
---
09:45 pm - you scream, i scream, we ALL scream for ice cream!
I made Chocolate Raspberry Ice Cream today in my Play and Freeze Ice Cream Maker (Note that on the site it costs $33, but I got mine at Canadian Tire for $15)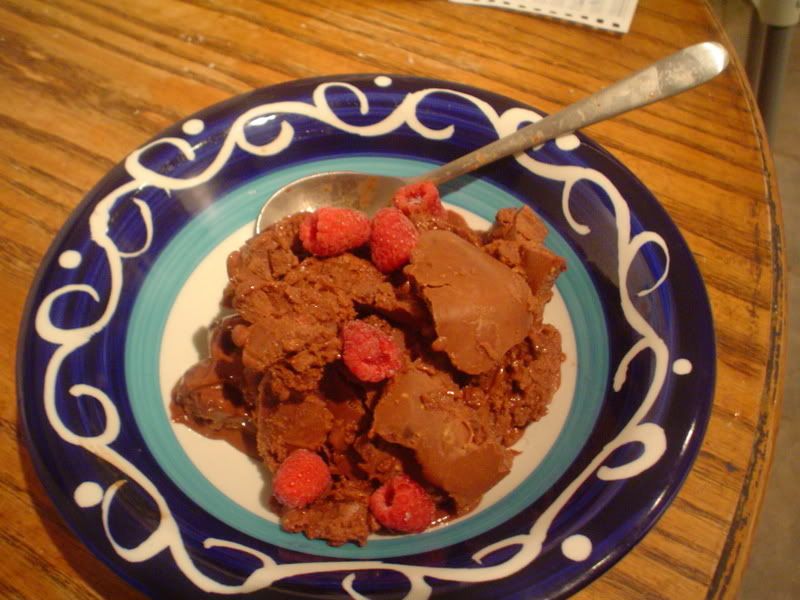 I have the original size (makes 1 pint), so I halved the recipe. Here's what I noticed:




The instructions for the Play and Freeze say to shake for 10 minutes, scrape down the ice cream from the sides and mix it in with the not yet frozen stuff, replace the melted ice with more ice and salt, and then shake for 10 minutes, to make soft serve ice cream. I found it actually quite hard (I am not complaining - I was surprised, I didn't think vegan ice cream would do that well!).



The recipe says to mix in raspberries 5 minutes before freezing is complete - I didn't do this at all, but I believe next time I would mix them in during the half-time scrape down.




It was difficult to get the ice cream off the sides of the maker. Next time, I'll try emptying out the ice portion and doing a quick rinse with warm water to get the ice cream to release.



It was actually very satisfying to make my own ice cream.





It made 2 big servings, which we gobbled up. When Tomas is big enough, I think it will happily make 3 smaller ones.


Next, I look forward to making the Mint Chocolate Chip ice cream. Aaaagh NOM NOM NOM.

08:41 pm - Grey Look-alike Meter
MyHeritage: Family trees - Genealogy - Celebs - Collage - Morph


Take that, all you bitches that say that he looks more like his father.

Oh, and a YEEHAW to all you folks who say he looks exactly like a mix of both of us.

July 18th, 2008
---
07:03 am - Tranquility is...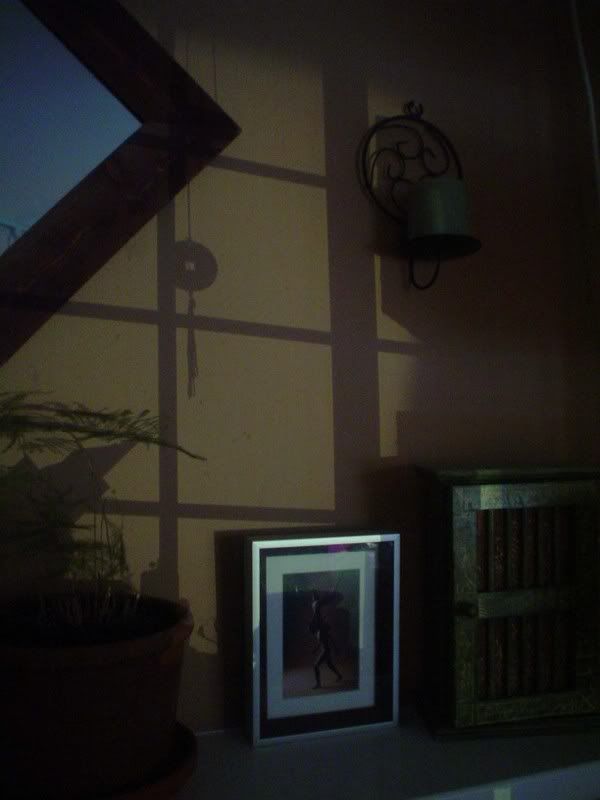 Even though our new neighbours are the trashiest of the trashy, loud, in poor taste, and almost constantly smoking on their back porch, I still like our home. We've made it comfortable, and I spend a lot of good quiet time here.

July 17th, 2008
---
10:18 pm - It's HORRIBLE!
If you like Joss Whedon, or you like Neil Patrick Harris, or both, you need to check out Dr Horrible's Sing-a-long Blog




It's only on this week - Act I and II are up, and Act III goes up on Saturday, and they all come down again on Sunday.

It's funny. It's cute. Go watch it!

July 15th, 2008
---
10:31 am - sick and tired
Tomas is definitely not feeling right. I don't know what's going on. I took him to the clinic yesterday, and they said his ears are ok, but he had a red throat. They took a swap for strep and I guess I'll find out soon if it is, or just a cold, or what. He's got a rash, too. Not just in the diaper region. Hopefully just an easy virus he'll feel better from soon...

But this means I don't want to take him anywhere other kids will be, and the daycare at the fitness club is right out. I'm trying to figure out stuff for us to do that isn't just "let's go to the grocery store".

Bleh.

July 7th, 2008
---
09:33 am
It seems that although I have lots going on, I feel as if I have nothing to say.

June 29th, 2008
---
09:04 pm - want
I want this house.


Andrew thinks I'm being cute, but if he were as enthused as I, I'd be talking to a mortgage person on Monday to find out how to start the process.

June 23rd, 2008
---
09:50 pm - urgh
Today was definitely one of those days that a do-over would have been nice!